---
TYNE TUGS AND TUG BUILDERS
A history of Tyne Tugs, their builders and owners
Above: Select the required shipyard by using the initial letter of the Surname eg: Eltringham, Hepple or Rennoldson.
KEY BELOW: D / H / P (D means basic dimensions are shown; H means a history is given; P means one or more photographs are available)


Shipbuilder: Anderson, Johnson & Littlejohn, St Lawrence (1891 - 1892)
Shipbuilder: Anderson & Laverick, St Lawrence (1892 - 1893)
Shipbuilder: Anderson, Laverick & Co Ltd, St Lawrence (1893 - 1894)
Anderson, Johnson & Littlejohn built ships at St Lawrence, Newcastle, near the Mushroom Landing.
An 1891 directory advert describes the firm as Shipbuilders, Shiprepairers, Yacht & Boat Builders, with a patent slip and gridiron at St Lawrence. The business was said to be 'late of Thomas Brown' at Mushroom Slip.
An 1892 advert uses the same layout as the previous firm, suggesting the same site was used for this new partnership. This new firm of Anderson Laverick were probably the first to build iron/steel vessels there although they themselves built at least one wooden hull among their Yard List of 18 or so. The partners were named in local 1892 directory as Douglas M Anderson of 104 Harbottle Street and Stanley Laverick of 133 Denmark Street...both named as 'Shipbuilders'.
However, by the turn of the century shipbuilding had ceased on this site and today it is underneath the City Quayside extensions, near the Spillers Flour Mill.
Above is an extract from Tyne Shipyard Biographies, copyright of Ron French.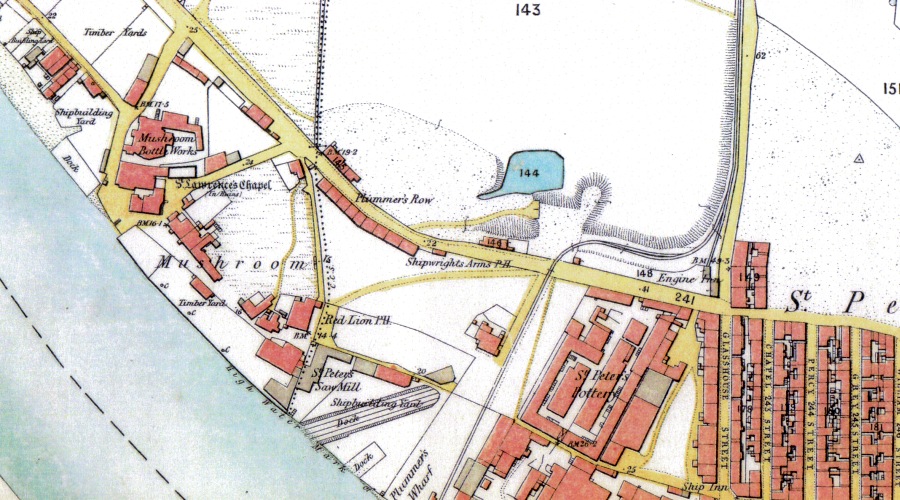 The above map is dated 1859 and is approximately 0.6 miles in width.
KEY BELOW: D - Dimensions; H - History; P - Photographs