Thomas & William Smith, St Peter's & North Shields




In 1810 William Rowe's wooden yard at St Peter's Newcastle was taken over by Alderman Thomas Smith, a rope manufacturer, and his sons William & Thomas. Following Thomas's death, his sons carried on the business. This firm became known as T & W Smith and built mainly wooden vessels on this site until the 1860s.

In 1863 the St Peter's Yard and the adjacent John Rogerson's Yard were combined into one business known as the Tyne Iron Shipbuilding Company Ltd.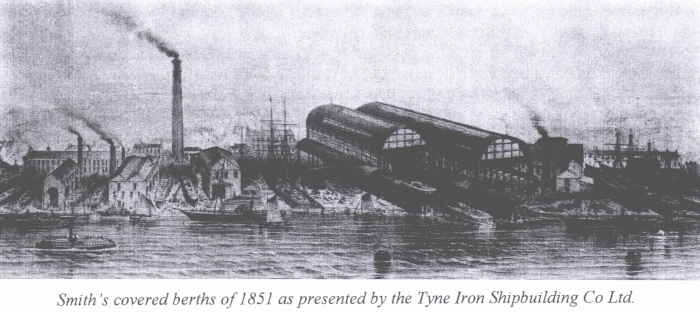 T & W Smith had already opened another yard at North Shields, immediately down river from Coble Dene, building iron vessels. They constructed a covered shipbuilding berth there in the 1850s (covered building berths meant that a higher Lloyd's vessel classification could be achieved), one of three owned by them at the Limekiln Shore Yard. The berth was of timber with extensive glass panelling.

The company had been located in North Shields since 1814 when they had leased a dry dock known as Laing's. Laing's Dock is said to have become too small for their needs and in 1850 they opened a new dock on land next to the shipbuilding yard. Eventually this yard was to concentrate on ship repair and became Smith's Dock Company in 1891.

The following is a list of tugs built at the St Peter's & North Shields yards: