Palmer Brothers and Co: 1852 - 1865
Palmers Shipbuilding and Iron Company Ltd: 1865 - 1933


Charles Mark Palmer was the son of a prosperous South Shields businessman and ship-owner. Charles initially worked for his father and then joined John Bowes in his colliery, where he rose to be a manager in charge. In 1851 he established his own shipyard at Jarrow with his elder brother George. The company, Palmer Brothers and Co, was established to build steam colliers to ship coal to London. The land for the yard was leased from Mr Carr-Ellison of Hebburn.

In 1852 Palmer Brothers and Co launched their first ship, a paddle tug called NORTHUMBERLAND. Their second ship launched in 1852 was the world's first sea going screw collier JOHN BOWES. The Yard went on to built 25 colliers of 12,210 grt in the two years following the launch of JOHN BOWES.

Charles Palmer purchased 14 collieries to safeguard his coal supply and leased land in North Yorkshire to mine iron ore through his Grindle Park Mining Company. He also built a harbour at Port Mulgrave near Staithes to ship the ore back to Jarrow. He also had interests in the Tyne Plate Glass Company to supply ship's fittings and the Bede Metal Company to supply copper.

In 1853 Palmers had started an engineering side to the business to build engines for their vessels.

A yard at Howdon, last used by Charles Mitchell, was purchased in 1860. The Howdon Yard was to produce a high percentage of total output for the Company, especially merchant vessels.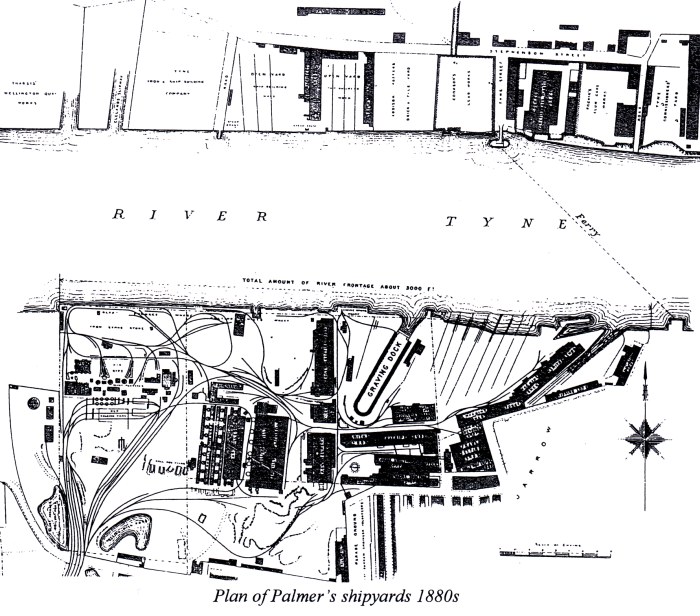 The Yard was a major builder of warships for the Royal Navy, starting with the TERROR in 1856 and building a further 20 major warships plus many small torpedo boat destroyers through to the start of the First World War.

Palmers Shipbuilding and Iron Company Limited was formed in 1865 and the works were then expanded to include an iron rolling mill and blast furnaces.

However in 1893 Charles, who had been a great philanthropist for the town of Jarrow, resigned from the company, following heavy losses of £33,000 in 1890/91.

In 1906 the overhead electric trolley cranes, with their elliptically shaped gantries, were built at Jarrow and these became a notable feature of the yard.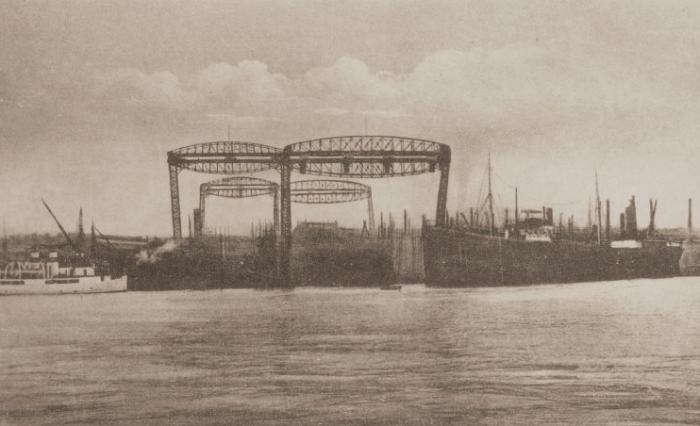 During World War One the yard built a battleship, a cruiser, three monitors, eighteen destroyers and two submarines for the Royal Navy, plus four cargo-liners, five standard WAR 'Z' tankers and five 'B' type dry-cargo ships.

In 1911 the seven-berth shipyard of Robert Stephenson at Hebburn was leased and then purchased in 1912, together with it's 715 foot dry dock. The yard at Howdon was then closed.

The Company had purchased the small yard of the Amble Shipbuilding Co. Ltd at Amble Northumberland during the War and a 560 feet dry-dock was operated from Swansea from 1922.

After the War the Company started to manufacture cargo liners, however tankers soon predominated with over fifty being built between 1921 and 1930.

On 24th July 1930 the tanker PETER HURLL became the thousandth ship launched by Palmers, however the last merchant ship built at the yard was the tanker BRITISH STRENGTH completed on 28th April 1931. The last launch took place on 19th July 1932 with the destroyer DUCHESS for the Royal Navy.

The complete closure of the shipyard, engine works, blast furnaces and rolling mills in 1933 had a devastating impact on Jarrow as the yard had been the main employer. The yard was rescued, as a shipbreaking facility, for a further 18 months thanks to the efforts of Sir John Jarvis, High Sheriff of Surrey. But this was short lived and the Shipyard, which had been acquired by National Shipbuilders Security Ltd in 1933, was finally demolished in 1935.

The Hebburn dry-dock was taken over by Vickers-Armstrong and continued to trade as Palmers (Hebburn) Ltd.

The following is a list of tugs built by the Palmer companies: