Above: Select the required Tug Owner by using the initial letter of the Owner's Name eg: Batey, Lawson or Tyne.
KEY BELOW: D / H / P (D = basic dimensions are shown; H = a history is given; P = one or more photographs are available)


Tug Owner: Tyne Improvement Commission, Newcastle


In medieval times, trade centred on the export of wool, hides, grindstones and lead, but it was the steady growth in the export of coal from 1600 onwards, together with the heavy duties levied on river users, that gave Newcastle its prosperity and the famous phrase "carrying coals to Newcastle" as coal steadily increased in importance.

In 1635, Newcastle was described as "after Bristol and London, the fairest and richest town in England" and as a crossroads for trade, the bridges over the river Tyne at Newcastle, together with its access to the sea and the emergence of coal ensured the city's supremacy for over 800 years. The City of Newcastle maintained its effective monopoly on the coal trade right up until the mid-nineteenth century.

The growth in trade and industry, fuelled by the Industrial Revolution and an expanding railway network, marked a growing need for improvements to the river. Over the centuries, the river had been so badly maintained there were 800 acres of sandbanks between the sea and the city with places in the channel being slightly over 2 ft deep at low water by the mid-nineteenth century. Such were the protests and demands for change that on 15th July 1850, the Tyne Improvement Act received Royal Assent, passing the stewardship of the river away from the City of Newcastle upon Tyne to the newly created Tyne Improvement Commission.

The Tyne Improvement Commission was made up of two life commissioners; fifteen representatives from the corporations of Newcastle, South Shields, Tynemouth, Gateshead and Jarrow; and fifteen representatives from ship owners, mine owners and traders.

In 1854, the commissioners started a programme of development and improvement that continued well into the twentieth century and laid the foundations for what was to become the modern-day Port of Tyne.

Within 70 years, the river Tyne was deepened from 1.83 metres to 9.14 metres and over 150 million tonnes dredged from it. The North and South Piers were built together with the Northumberland Dock, the Albert Edward Docks and the staithes at Whitehill Point and Dunston. Tyne Dock was also constructed by the Tyne Dock Company and the results of all these developments could be seen in 23 million tonnes of cargo being handled by the Port by 1910.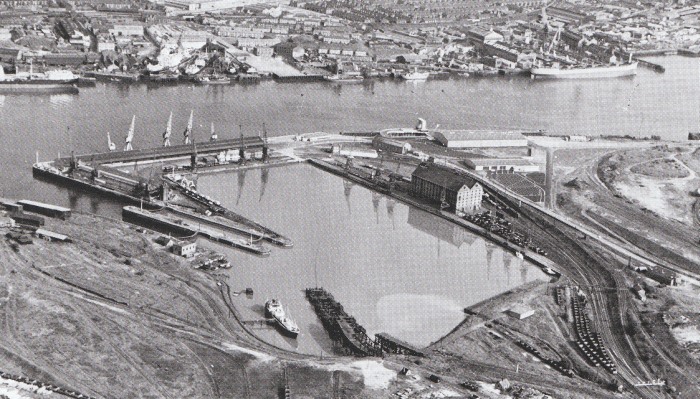 Above: The Albert Edward Dock with coal staithes already cut down or removed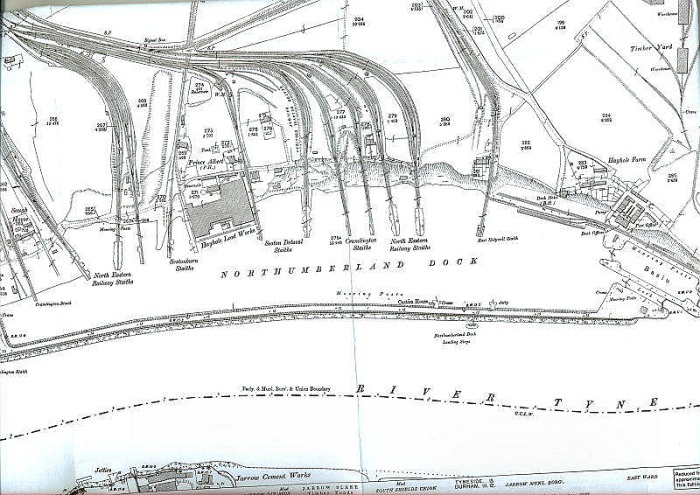 Above: A plan of the Northumberland Dock. Courtesy of Steve Ellwood


The Northumberland Dock, built essentially to serve coal-carrying railways from several collieries in Northumberland, was constructed in 1857. Designed by John Plews for the Tyne Improvement Commission, it cost £200,000. It was the first enclosed dock to be opened on the Tyne; it covered 50 acres and was the terminal for the important group of colliery railways which brought millions of tons of coal from pits in South East Northumberland. The 1925 'River Tyne Official Handbook' noted that the dock was used for general imports and export traffic. There were eight coal shipping staiths, four owned by colliery companies, (Cramlington, Seaton Burn, Seaton Delaval, East Holywell) and four by the LNER. The commissioners' tugboat Coble Dene worked the dock. The dock had ceased to be used by 1953, and was subsequently filled in and the area reused.

Tugs were required to handle vessels into an out of these enclosed docks and to move the dredgers, hoppers and barges that removed the mountains of river silt. Work craft of all types and sizes were used to maintain the structure of the docks, piers, quays and lock gate, all of which required tug power to move them around.

On 31st July 1968 the Tyne Improvement Commission was dissolved and replaced with the Port of Tyne Authority, constituted on 28th June, and one of the UK's largest trust ports.

The following tugs were owned or operated by the company:


Many thanks to Heather Harrison (nee Malcolm) who got in touch to say that her Grandfather, George William Malcom, was employed by the Commissioners from 1875 to 1932. He was appointed Engineman in 1881 and served most of his time on the COBLE DENE. Her father Harry Malcolm also worked for the Commissioners, on the ferries, tugs and docks. His story is told in Three Generations of Tugboat men - HERE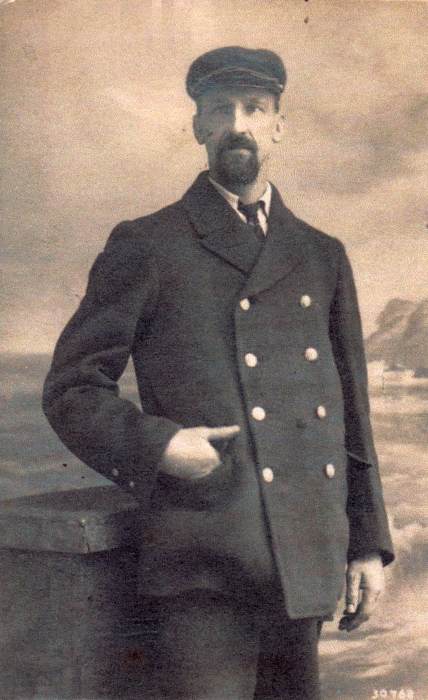 Above: George William Malcom
One of the first TIC Masters with a uniform