Jarrow Chemical Company
JC Stevenson

In 1844 and at the age of 58, James Stevenson took his family from Glasgow, by stage coach to Tyneside to become a partner in the Jarrow Chemical Works in South Shields. The chemical works had been established by Isaac Cookson 20 years earlier and produced alkali, for glassmaking, paper-making and dyeing. The business grew rapidly and James soon retired, aged 68, to Edinburgh with his wife and four unmarried daughters.

James died in 1866 and his sons inherited his share in the then very successful Jarrow Chemical Company.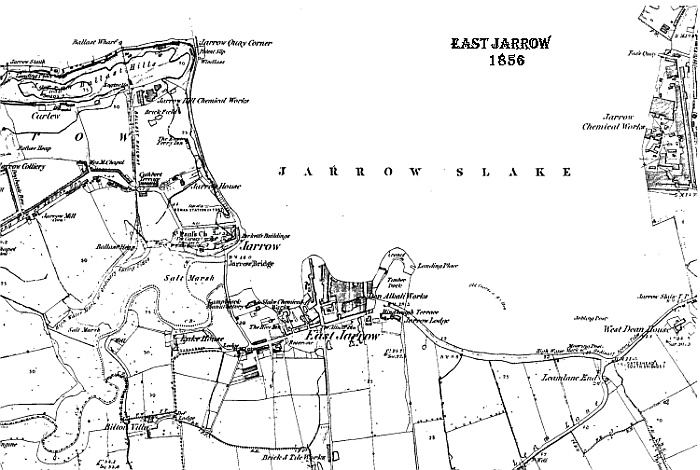 Jarrow Slake in 1856 showing the Jarrow Chemical Co on the east side

The chemical works expanded to become the largest chemical undertaking in England under its founder's energetic eldest son, James Cochran Stevenson. At its height, the Jarrow Chemical Company was probably the second biggest of its kind in Europe, employing more than 1,400 men. The combined output of its factories at South Shields and at Friar's Goose at Gateshead, made up a tenth of the whole of the British alkali industry

The partners joined with the Tennant family in taking over the Tharsis copper and sulphur mines in Spain. JC Stevenson and his brothers also invested in steamships – some in association with their relatives the Andersons (founders of the Orient Line).

Stevenson took an active part in civic life, campaigning for improvements in sanitation, road-widening, river Tyne development schemes and more. He was a Life Commissioner appointed by the Tyne Improvement Act, and chairman of the Tyne Pilotage Commissioners.

He was also mayor of South Shields and a Justice of the Peace for County Durham and for South Shields. He was Lieutenant-Colonel commanding the 3rd Durham Artillery Volunteers, a member of General Council of Glasgow and a Fellow of the Institute of Chemistry. He was also for a time the owner of the Shields Gazette.

In 1869 Stevenson was elected Member of Parliament for South Shields. He held the seat until 1895.

Stevenson was a religious man with a strong sense of public duty and commitment to the local area, but his chemical works, using the Leblanc process, caused pollution and imposed harsh working conditions on employees, despite being the first Tyneside factory to offer a Saturday half holiday.

Stevenson died at the age of 79.

A rival process for making alkali was developed by Brunner & Mond and threatened the profits of the Jarrow Chemical Works. In desperation, firms in the UK using the old process amalgamated. In 1890 they formed the United Alkali Company, the biggest chemical undertaking in the world and JC Stevenson became a vice-chairman. However the plan failed to dislodge Brunner & Mond and years later the two companies merged to form ICI.